Who Is He?
Masashi HIRAO is the most innovative bonsai master. The man, seemingly does not look like a bonsai master, keeps trying some new things to change Bonsai industry in Japan.
Why Does Japanese Bonsai Industry Need To Change?
Bonsai industry in Japan might be more conservative than you imagine. Bonsai as a hobby is often done by the elderly in the world, but Japan tends to be so much more. Actually, almost young people never have interest in it. In addition, the elderly does not have interest in bonsai industry in the world; not try to communicate positively. This means Bonsai industry and culture will decline in the future.
Masashi HIRAO worries about the situation, so he keeps trying some actions.
What Does He Do?
Bonsai demonstration
Having one Bonsai ready to prune(trim branches) and wire(to put wires around branches to make a tree strong) in front of the audience. Masashi's demonstration is for 2 to 4 hours to show the way of the Japanese Bonsai making and also the development of the further techniques.
Bonsai performances
Masashi does one Bonsai work at bars, clubs, or even on a street with a band or DJ for the people who are not familiar with Bonsai so they can get to know Bonsai with great enjoyment.

Who imagines the mix of Bonsai and DJ?
Bonsai Workshop
An activity of how to make and manage the Bonsai which Bonsai lovers brought. There are people from the beginners to the advanced so the workshop takes 2 to 3 hours at the shortest and 2 days at the longest. It is a Bonsai class to teach people how to be able to tell great trees from others and extract their potential beauty.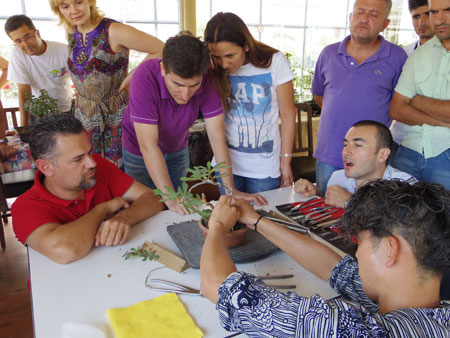 If you are interested in Bonsai industry in Japan, do not forget to miss him.
Masashi HIRAO's Website: http://bonsaihirao.net/
Author Profile
Twitter:@SekaiBonsai

Hello, We are SEKAI BONSAI Editorial team. Our vision is to spread japanese bonsai to the world.